Overview: Verizon creates custom interactive experiences to showcase features of their devices for launch in their retail stores. My team's objective is to create visually compelling, user-centered content communicating the device's features, creating a holistic, immersive experience. As art director with Invodo, I ideate, pitch, and design concepts to our internal team and external clients. After honing concepts, I then direct my creative team to develop and implement.
To envision its use case, a shopper walks into a store, walks up to this Samsung tablet, and navigates their way through the device, choosing to watch videos or play interactive games. I directed my team to create, develop, and implement the experience for the tablet in alignment with the Verizon brand. This experience launched for the Samsung Galaxy View release in Verizon's flagship stores nationwide.
Concept pitch board for interactive experience 01 of 02. This experience is a playful game planning one's vacation. The user creates their personal character avatar and then incorporates the avatar into silly vacation scenes.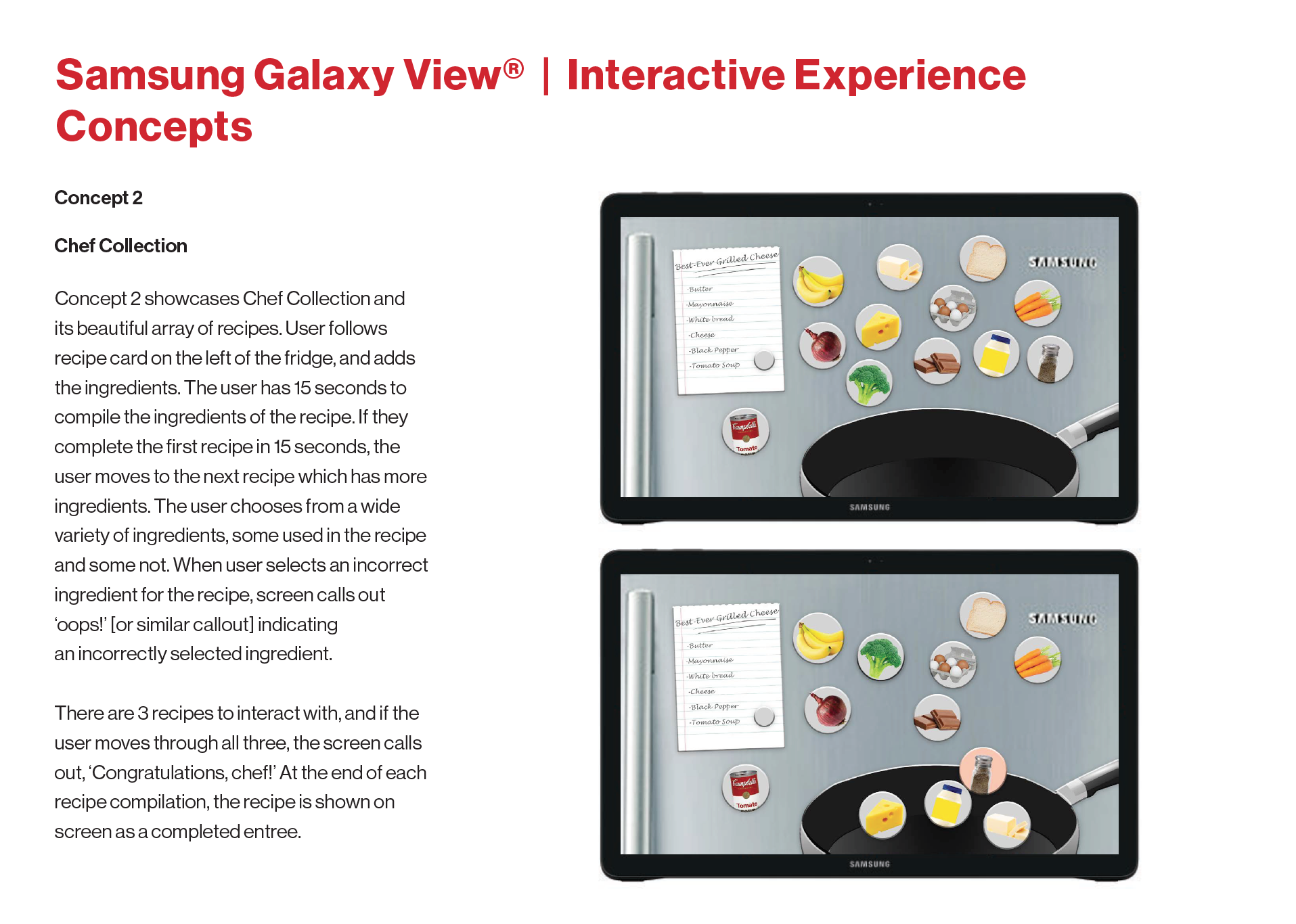 Concept Pitch board for interactive experience 02 of 02. This concept was approved by the internal Invodo team as well as Verizon, and thus was created into a fully interactive game experience showcasing the app 'Chef Collection.' In the experience, users are timed moving the magnets of ingredients of the recipe into the pan. If the user completes the recipe correctly within the time, they advance to the next level.
The aim was to effectively communicate the Chef Collection app's features and benefits in a fun, engaging way.
Looping attract video. For Samsung's release of the Galaxy View at Verizon, this video loops until a user in the store touches the screen. Once they touch the screen and 'break' the loop, they are taken into an interactive menu and experience.
The tablet user interface is a clean grid menu, and this video walks the user through the grid menu features.
Share and Connect Video: A user can opt into this video via the main menu, which highlights the media and game console features of the tablet.
'Built for Streaming' video highlights the media a user can access on the View tablet.
Design and Performance | This video showcases the high-quality design and performance of the tablet.
This video highlights the game console features of the tablet.
Video a user can opt into to learn more about Verizon messages
Information Architecture Discovery Process